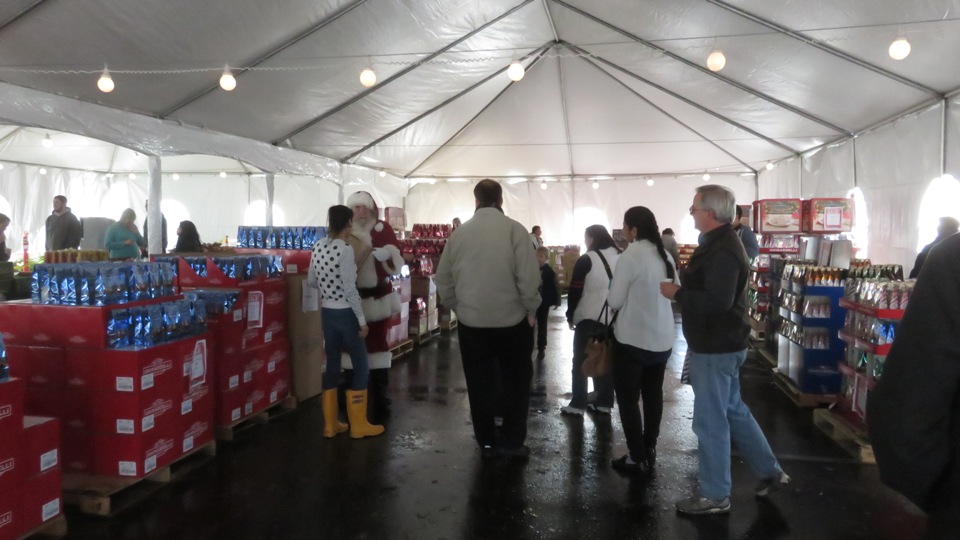 During my previous visit a day before Thanksgiving, I was handed a coupon for this weekend's sales (although you can obtain the same coupon online). It looks like an ordinary additional 15% off purchase, but it's much more than that. I have used some of the chocolates bought today as part of gift bags for this upcoming Christmas.
Here's the summary of the holiday sales:
Large outdoor tent with free samples and hot chocolate
Take a picture with Santa
5 Stack Gold Tower: $34.95
Large Stand up Bags: $4.25 (Holiday Sea Salt / Peppermint / Classic / Limited Edition Collections)
Variety of Christmas Tins
Small Stand Up Bags: $2.50 (from $2.99 / $2.66 when buying 5)
All Bars: $2.50 (from $3.00)
Factory Seconds Case (Dark Chocolate Sea Salt Brownie): $15.00 (from $17.50)
430 Milk and White Squares: $100.00
Bulk Candy and 80ct Bags remain unchanged in price
Unlike other sales promotions, you can use this coupon to discount items that were already heavily discounted from the Warehouse Sale (this was confirmed with the assistant manager).
Stand-up bags become $2.18 per bag (buying five of them is not required) and a dozen bars, assuming you don't mind minor quality aesthetics, averages out to be $1.06 (which is around the price lower quality Falize Chocolate bars sell at the 99c store).
If you want to start giving early, the coupon is not consumed when you pay for the chocolates, so you can gift your coupon to someone else.