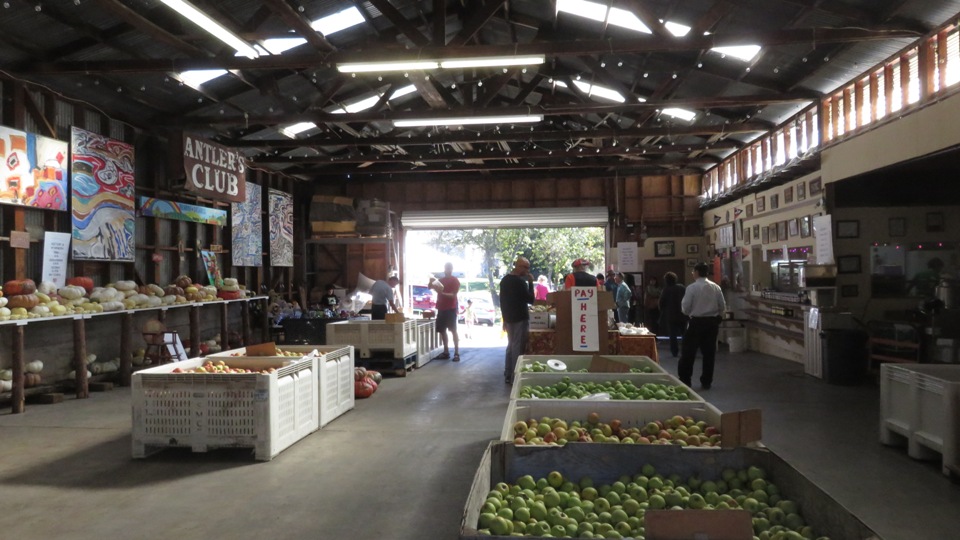 During Halloween, I decided to head over to Apple Hill, mainly to explore, get an Apple Pie, and possibly visit the Chestnut Festival at Smokey Ridge. Despite it being listed today (according to the Apple Hill 2015 website) they did not seem to have it upon passing by late afternoon, although there were a lot of other things to look at. The farms I visited were the following:
Rainbow Orchards: Sells a variety of stuff, including apples, baked goods, jams, apple cider doughnuts and hard cider. Has outdoor seating and music performances on certain days. The size of the doughnut is a bit smaller than a regular doughnut. There is a BBQ out there as well; they sell sandwiches and hotdogs ranging from $5-9. The apple pies here are moderately expensive.
There is a price listing here.
Kids Inc: Sells large apple pies, some apples (they have samples available), and a few vegetables. Contains several vendors and a giant corn maze / pumpkin patch. Menu is located here, with a few pies raised by 50 cents. There is also a grand view of the apple fields from the hillside.
Abel's Apple Acres: Sells the largest variety of apple baked goods that I've seen so far, as well as candies and gifts. There are at least three places to buy food from, and there's attractions and vendors outside. Apple pies are relatively inexpensive here (at around $11-12 per pie, both baked and frozen).
Tip: Bring a map and figure out your route prior to heading over. It's easy to get lost out here, even with a GPS, and some of the signs for these apple farms are hard to see from a distance.