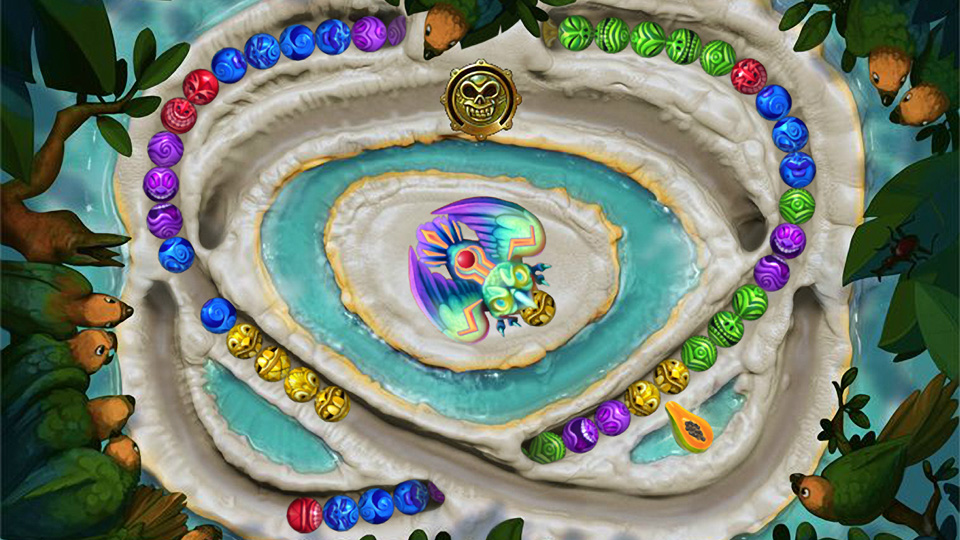 Guess I've become the board namer.*
Hot Springs: Where it's not just the frog, it's also the birds watching you play. And they also mentioned a few surprises coming within the next few weeks. The first? You've got two additional frogatars to choose from, including the new Blue Frog.
The board's very similar (if not exactly) like the volcanic Pretzel of Doom except two fruit locations were moved so as to make it easily accessible (previously you had to go through two layers of balls in some situations).
No new other features this week, but Here's a link for 10k coins (valid only within a few days of publishing this post).
Don't worry if you can't score as many points as before compared to previous boards - this board is by far the most difficult to score and high scores on the leaderboard will typically be lower than usual as a result.
Strategy: Gap on top left or top right, or double tap on bottom left or right. use Gapple Sauce, or Candy Lei if you have trouble with the gaps. (Note: Gapple Sauce will no longer be available for purchase on the 16th, so stock up if you need to.)
Or, clear ALL the curves! I'm relying on the much needed extra time - and the last 20 games recorded on PSSS shows solid performance with Curvy Fries. Don't fire blindly - use your head and rely on combos to push balls back, since they'll come out pretty quickly if you don't. You'll need three hot frog shots after a curve clear in order to clear it again (two if you're lucky, but don't count on it since the game only checks for curve clears once a second, and there's a good possibility you won't get it.)
Recommended Powers:
Gaps: The typical x3, Time, Epic Fruit, Gapple Sauce and your choice of either Beetle or Eagle.
Curve Clears: Hot Frog, Time, Epic Fruit, Curly Fries, Spirit Eagle.
Frogatars: Combination of Frog + Avatar. As of right now, you can choose one of two other frog styles to use in the game in place of your 'basic' frog. Your selection will be shown on friend's leaderboards. There is currently only a visual difference between using one frogatar and another, though future ones may have additional hidden powers associated with using them, so be on the lookout.*