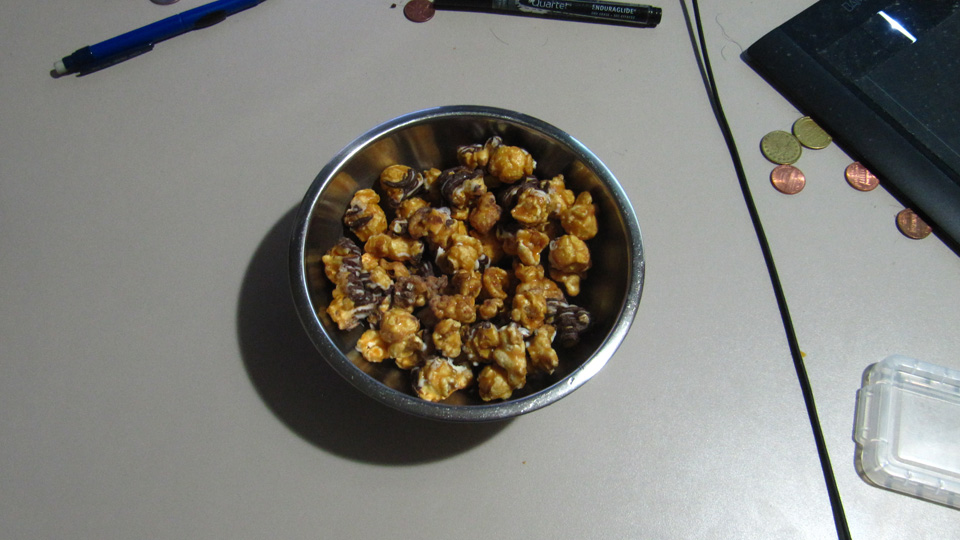 2-3 servings of it
First batch of Popcornpolis Popcorn bought from Costco. After trying it today and a year back, I've decided to buy some (at 4 bucks for a 4-11oz package).
Where to buy: There's not very many places around to buy them at, but Roseville Galleria might have some, as well as Costco, but only if they're doing a demonstration - when they're there, pick them up while you can, since they'll most likely disappear when they're gone.
At Costco, they typically offer these flavors: Zebra Chocolate, Caramel Corn, Kettle Corn, Cheddar Cheese, Pecan Caramel, and Cinnamon Bun.
Note: They're extremely good, and they're addicting to eat as well, but don't get too carried away with eating it. Its saturated fat is quite high in one serving (which is an ounce) at 25%, and there are 11 servings in a sizable container at Costco.
Update: You can still buy them at Costco as a small 12-pack and normal-size 4 pack (13.49 last I checked), you just lose the option to select your flavors (locked at Kettle Corn, Cheddar Cheese, Zebra, and Caramel Corn).