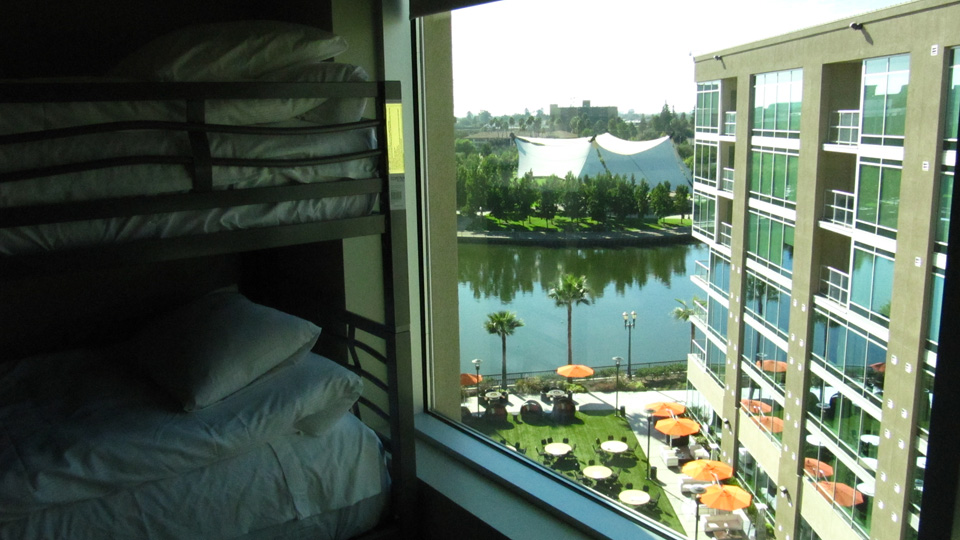 The University Lofts (aka University Plaza Waterfront Hotel) is part of the Sheraton Hotel, one of the new hotels on the skyline built a few years ago next to the Stockton Arena. It was quite impressive, noting it as one of the most modern hotels I've seen here. Since then, it has changed owners quite a few times before it was split between hotel use, condos, and University Housing. I got the chance to see what it was like to live on one of these 'apartments'.
The glass windows and huge common area make it look spacious and perfect for parties, as well as providing nice views outside (they're located on the top floors, though you're paying more to get a room the higher up you go), but the bedrooms themselves have yet to be improved space-wise.
Its official site is here.
Pros:
You're near downtown.
Large common area, fully furnished.
All appliances and utilities available (electricity, water, tv, washer/dryer, etc.) without having to buy them / pay for services.
Weekly cleaning service (though they will not clean your sheets if you brought yours)
Free shuttles to UOP.
Rooms cost less overall than a UOP dorm room when living there for a school year (this includes the penthouse room, but not if you are the only one in it)
Cons:
Internet connections appear to be wireless only. (This may or may not be a good thing for some people)
Feels like too many bathrooms (four total for an apartment that houses five people).
Bedrooms quite as cramped as dorm rooms and you get less space to put your stuff in (you also lack a dresser), except if you happen to live in that one room with a huge closet.