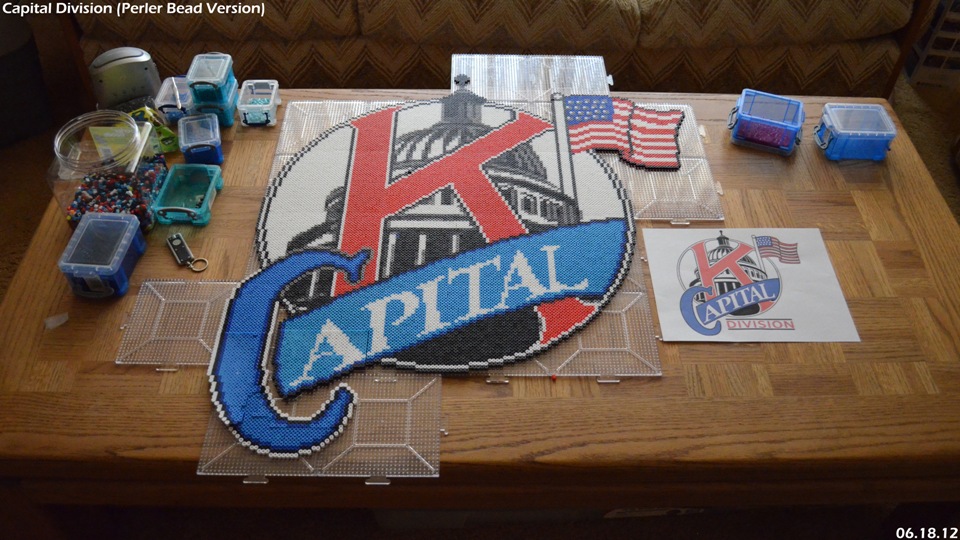 I've been in CKI for three years, and was planning to attend events for a bit of the summer, but my physical presence was cut short when rides to events were not available in my area. I had other things in mind, and the logo is one of them. This... is Capital Division.
Brief History: The original post regarding creating the CKI Logo can be found in this post.
After reaching week two with twelve plates (29x29 pegboards), I realized that when trying to create the top part of the circle, the circle itself wasn't entirely symmetrical, so the entire logo had to be redesigned with the circle being the first thing made into a 4x4 grid size, and the flag/C made last.
I also noticed that I can't build the entire logo on my desk - I ran out of space. That means moving it to another table for better lighting. But wait! There was a 3000 piece puzzle in the way (as well as ten others underneath it) so the most logical thing to do was to finish it up, and complete a goal at the same time. The project was moved and continued from there (albeit destroying most of it to compensate for downsizing the design.) Many of the materials were bought 'as needed' as it was hard to obtain all the perler bead materials at the same time (there were at most two 4 grid packs available per week, and three 1000 bead packs for a single color).
The final logo designed was completed by the third week in June. It was well received and jaw dropping at the same time.
Build Order: On the new build, the original capital division logo was resized, and edited to make the circle symmetrical. The red 'K' was built first, as well as outlines for both the capital building and the blue stripe. It is not an exact replica of the printout - some of the shades and lettering were improvised as there were no colors available for half shades, and some areas were redesigned altogether if I didn't think it looked right from a distance.
Next Steps: Several more (large scale) Perler bead projects exist in my queue:
Zuma Blitz Gratuitous (golden) beetle.
MCHS modern Dragon logo
Sac State Squirrel (2011-2012, colored)
UOP Logo
'Important' CKI people.
Additionally, there will be posts regarding Zombie Playground concept art (with my interpretation of how the game might look) - my cousin Jason Chan designed most of the art design for the game, and I would like to play a role in shaping it.
Stats:
Bead Consumption: Approximately 12,000 beads.
Cost: $72 over six weeks, with the majority of the materials bought at Joann's Fabrics. Tip: Each Sunday there's usually a coupon that discounts one item by 40%, and in some weeks, coupons are available that discount your entire order by a small amount. Take advantage of these.
Likes: 22 (new record for non-group images)