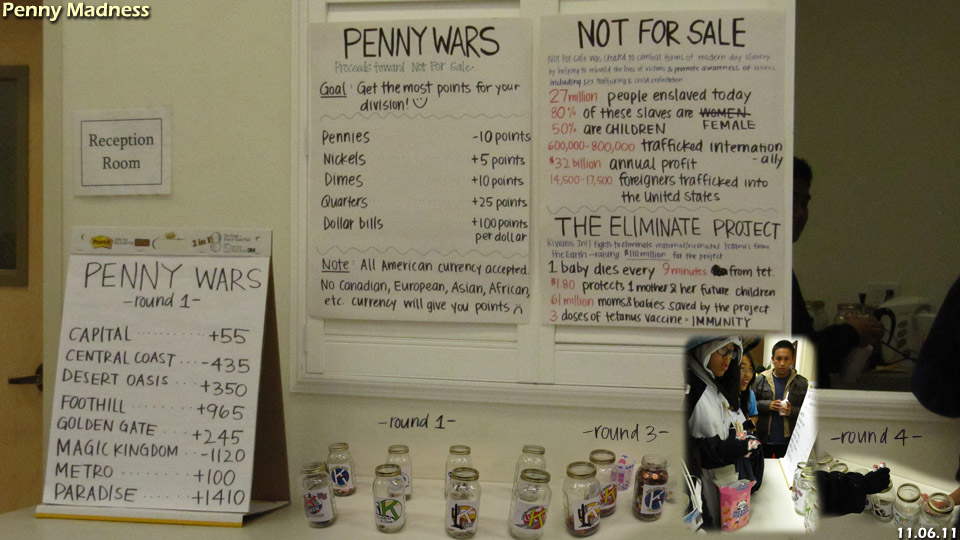 Penny Wars: A fun competition to help raise money. In the realm of Circle K, Penny Wars is serious business, meaning that in order to win, you have to plan beforehand. Or not.
Round 1: Fairly straightforward - see the image to the left.
Round 3: (either I missed a round or they skipped it) - Groups get more aggressive. Golden gate is the only one in the black with the help of a 20 dollar bill. Divisions gang up and flood Golden Gate's jar.
Round 4: All divisions are in the red, with Desert Oasis winning (at -285) and Golden Gate at -21,410 points. SFSU enters rage mode and summons lots and lots of filled penny coin wrappers (they had at least 80 total last time I saw) - and drops them into every other team's jar to even out the playing field (ensuring that Desert Oasis doesn't win the second time.)
Results: $740.32 was raised for Not For Sale. Capital Division (our division) wins. Although the pennies in our division would cut the score close compared to other teams, We had a dollar-filled penny wrapper to ensure the victory.