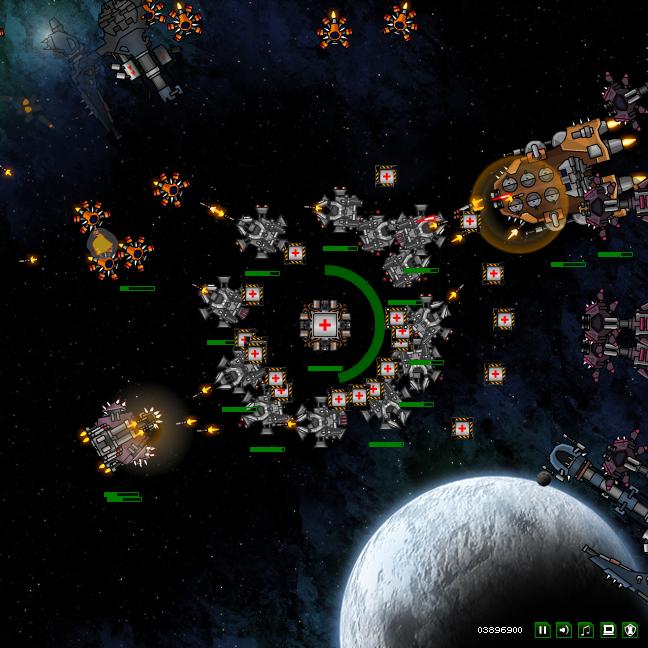 Playing through Star Forge, the newest game from Hero Interactive. On Hard difficulty. (I don't typically go for easy difficulty unless I plan to rush through the game quickly.)
Essentially it's a unique form of real-time base defense where your forge is either constantly producing turrets or turret upgrades. Once the 'forge' produces a turret / powerup you drag and drop on the spot where you want it to be built, or drag a powerup on a turret to upgrade it (max 6 upgrades per turret).
I managed to complete the game in one sitting, and learned that a formation of a turret with (3-armor / 1-amplify / 1-range / 1 shock) surrounded by 2 towers with 4-armor / 1-range / 1-explosive worked quite well the entire game.
TIPS*:
Powerups are introduced in this order: Armor, Explosive, Heal, Range (must have), Amplify, Slow, Recycle, Bomb (destroy one non-capital ship onscreen), Shock, Anti-Capital.
Save some upgrade slots for later when new powerups are introduced.
Range is a must-have when it's available.
When building a turret late-game put all of its upgrades on at one time, or it might get destroyed while trying to build it up.
Keep building heals otherwise. Do that and you can survive the last wave with around 12 fully upgraded towers or so.