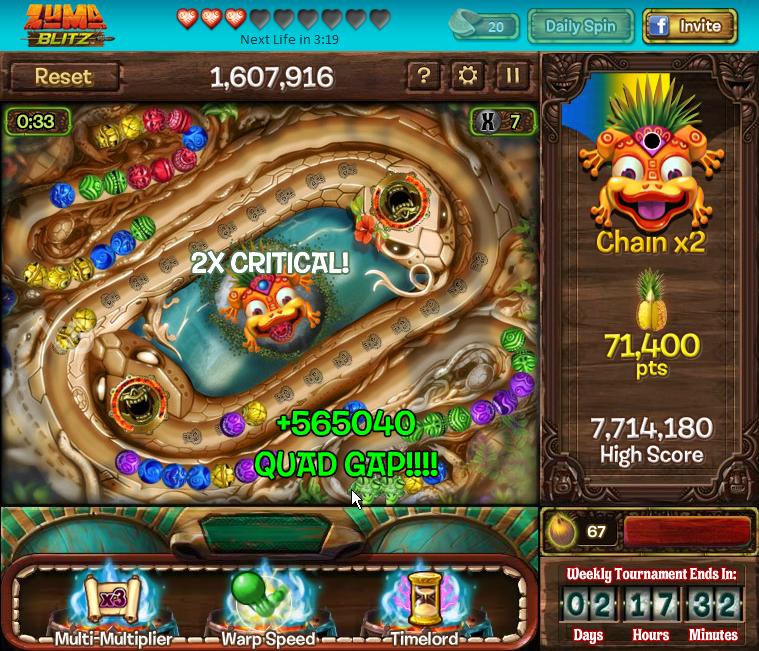 Doing the triple quad gap.
So many questions to answer...
What do the spirit animals do for you if anything, as you upgrade them?
They currently don't do anything (other than producing humorous messages at higher levels when you reach them), but if it does, I'll put it up here. Example: Jackal Chief rank reads "The jackal is the cleverest of beasts, but don't ask him to install your printer."
Also, if you're going for Gap Shots, do you just work on one side till the other fills up? I'm not sure how to set it up properly. My highest score has been just over 500k but that was just by working fast and getting 2 Red Frogs - barely, if any gaps.
Good question. One column works best, as explained below. As for setting up gap shots, there are several ways to do it:
capping and creating a hole. (see image) Instead of matching the last one at the end, put a different color, which allows you to prepare for a gap shot on the next ball.
Using explosives to create a hole. This can be a bit difficult, since the explosion radius is 4-5 balls in length, and any gap shots scored at this point would be quite low due to the size of the gap.
Rapid fire (2) - Firing two (or more shots) at a time, one to create a gap and the second to create the match past the gap. You can get at least one if you don't aim bad. You can get even more if you're lucky.
'Near a curve' shot: with a long chain, instead of aiming towards the one closest to you, aim for the one further back.
Going gap shots on both sides can give you more opportunities to make a gap shot, but it's risky as you'll probably end up with times where you're waiting a while in order to get that gap shot, losing out on potential points / powerups. It's best to leave it to one column as while you're waiting for that gap shot with that one ball, you can still get points on the other side using the other ball on hand. (Though getting to red frog once before doing this is recommended as it allows you to build up multipliers first which make these shots all the more valuable.)
Above: (using a red line as a guide) Green and red... could make a match on green... but seeing a possible gapshot, fire red at the end. Blue's next... seeing a possible gap shot, fire green and then blue in quick succession. The green ball clears the way for the blue ball, creating a gapshot (+10k points). Wait any longer and the blue ball would stick.